EQUiMAX® (ivermectin 1.87%/praziquantel 14.03%) is a broad spectrum parasite, bot and tapeworm control. It is safe to use in foals as early as 4 weeks of age, pregnant and lactating mares, and breeding stallions.
Indications
INDICATIONS
EQUiMAX® has broad-spectrum activity against a range of debilitating and performance-depriving parasites including:
Tapeworms (Anoplocephala perfoliata)
Large Strongyles (adults) (Strongylus vulgaris) also early forms in blood vessels), (S. edentatus) (also tissue stages), (S. equinus), (Triodontophorus spp.)
Small Strongyles (adults, including those resistant to some benzimidazole class compounds) (Cyathostomum spp.), (Cylicocyclus spp.), (Cylicostephanus spp.), (Cylicodontophorus spp.)
Small Strongyles (fourth–stage larvae)
Pinworms (adults and fourth–stage larvae) (Oxyuris equi)
Ascarids (adults and third– and fourth–stage larvae) (Parascaris equorum)
Hairworms (adults) (Trichostrongylus axei)
Large-mouth Stomach Worms (adults) (Habronema muscae)
Bots (oral and gastric stages) (Gasterophilus spp.)
Lungworms (adults and fourth–stage larvae) (Dictyocaulus arnfieldi)
Intestinal Threadworms (adults) (Strongyloides westeri)
Summer Sores caused by Habronema and Draschia spp. cutaneous third-stage larvae
Dermatitis caused by Neck Threadworm microfilariae, Onchocerca sp.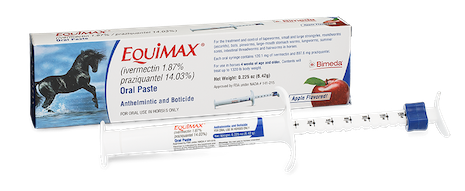 Available Pack Sizes
| | | |
| --- | --- | --- |
| Product Code | Unit Size | Case |
| 1EQU022 | 6.42g | 72 |
| 1EQU024 | 6.42g | 48 |
For more information, please view the EQUIMAX® product information sheet.
Consult your Veterinarian to determine the best deworming program for your horse.
FOR ORAL USE IN HORSES 4 WEEKS OF AGE AND OLDER. EQUIMAX® (ivermectin/praziquantel) Paste should not be used in other animal species as severe adverse reactions, including fatalities in dogs, may result. Do not use in horses intended for human consumption. Swelling and itching reactions after treatment with ivermectin paste have occurred in horses carrying heavy infections of neck threadworm (Onchocerca sp. microfilariae), most likely due to microfilariae dying in large numbers. Not for use in humans. Ivermectin and ivermectin residues may adversely affect aquatic organisms, therefore dispose of product appropriately to avoid environmental contamination. Trademarks belong to their respective owners.